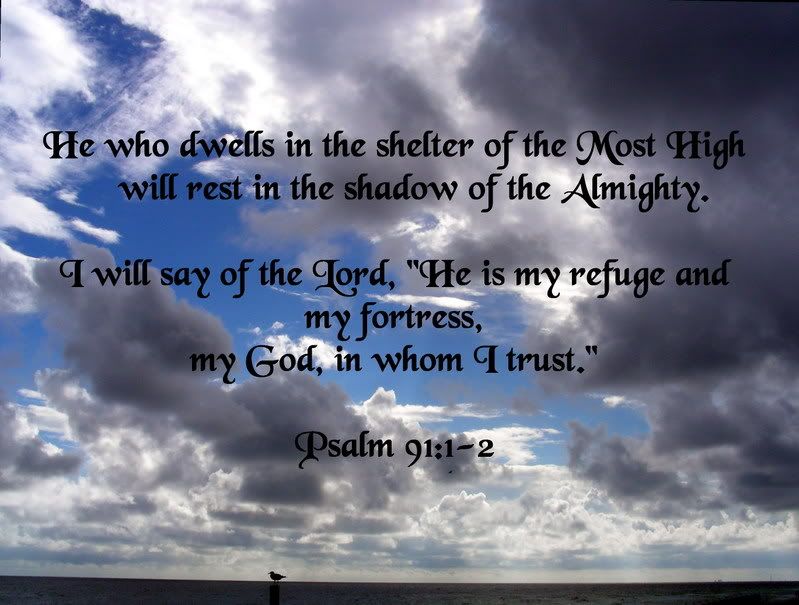 Psalm 91 has always held a special place in the heart of my family. This week, over at our Online Bible study with Melissa Taylor, we have been looking at, pondering on and digging into parts of this Psalm.
The first night of my son's illness, I hand wrote all of this Psalm out for him on notebook paper. Then, I wrote a four page letter crying my heart out to the Lord in that same notebook. This handwritten note made the rounds. Hospitals in Cincinnati, Lexington, and Cleveland-he carried it with him just about everywhere. Every time I see this, I drift back to those memories and how the Lord HAS been our refuge and fortress; the One on whom I could lean and rely on.
So many things have been happening lately, almost a repeat, (but different trials), of our life four years ago. I am daily reminded of my need to rely on Him and lean on Him. Days slowly passing by wrought with battles. Constant reminders that NOTHING is in my control. Personal ministry battles, obedience issues with one of my children, battles with friends and family, reminders of illness in my family, a never ending to-do list, and just bone tired weariness. Mental, physical, and spiritual. Pushing through each day instead of calling out to Him and leaning on Him more often. How quick was I to forget our reflection verse from not long ago:


1 Thess. 5:16-18~ Always be joyful. Never stop praying. Be thankful in all circumstances, for this is God's will for you who belong to Christ Jesus.
Through this study, I have had more opportunities than I care to count, to 'put into practice' the tools Karen recommends and the Sword of the Spirit, from the verses. The last four years have felt like everything is out of control. Yet, He encourages me with verses that run through my head, through some amazing friend's prayers, words of encouragement and email/messages/cards, and the assurance in His Word that He never leaves nor forsakes us. Even though we may feel like we are forsaken because of an out of control season in our life, His Word always remains true.


2 Corinthians 4:8-9~ We are hard-pressed on every side, yet not crushed; we are perplexed, but not in despair; persecuted, but not forsaken; struck down, but not destroyed--(NKJV)


Hebrews 13:5~ Let your conduct be without covetousness; be content with such things as you have. For He Himself has said, "I will never leave you nor forsake you." (NKJV)
Praying that this process draws me closer to Him, as it did four years ago. That nothing is wasted. That I rely on Him to be my refuge and fortress in time of need.
One of my favorite songs: By Your Side, by Tenth Avenue North. Please hear the words.
Jennifer Newsom
OBS Executive Team